A few months ago, Evelyne visited a very nice museum in Tours (in the region Indre-et-Loire), and made a wonderful video about it… here it is. Thanks for this very interesting visit and commentaries !
---
  Last month, Gauthier went to Jamaica with his girlfriend to visit a friend of his who works in Kingston, the capital city…
They had an amazing trip. Here are his Jamaican impressions… Many thanks for the text and pictures !!
   I took the plane to Kingston on the 22nd of October. I went to see my friend Bastien who lives in Kingston. Gaëlle was here as well. The jetlag wasn't difficult to accept.
   Bastien worked the two first days, but we were busy. On Monday, we drove until Cockpit Country. It's a natural reserve in the middle of Jamaica, the biggest of this country. We drove during two hours and a half to find this place. It was difficult because the streets aren't so easy and we didn't have a GPS… We did a walk during almost three hours in this new vegetation. It was the first time that I drove on the other side, not like in France. It was funny !
   On the second day, we went on an island called Lime Cay. This island is in the south of Kingston. We took a small fisherman's boat during fifteen minutes. Lime Cay is a paradise. We were only the two of us. Ten minutes are necessary to walk around the island ! Sand, vegetation like a wood, sea and the view of the mountains… it was amazing ! At the end of the afternoon, we joined Bastien to visit a neighbourhood of Kingston. We visited in particular one street where some street art was taking place. All the walls of this street were painted...
   There was also a backyard called « Life yard ». It's like an association which helps children and adults with the discovery of culture, songs, gardening, cooking… We were lucky because we talked with the director of the yard. He was very invested in his project. We felt good in this place.
   From Wednesday, Bastien was on leave until Sunday. He booked two different accomodations. The first one was on the Blue Mountains, the mountain area of Jamaica. The journey by car was tiring and stressful. At a time, the mountain roads became very bad and Bastien's car wasn't powerful enough. He called our host in order to pick us up. There was only five kilometres. I decided to slip in my running outfit to finish the journey because I felt so bad in the car at this moment. I took a lot of pleasure during these five kilometres because Jamaicans were encouraging (those living on the hill), the lanscape was beautiful and the way was hard to run, I liked it. I arrived of course after Gaëlle and Bastien at home. But what home !! We were at 1260 metres of altitude. That home was without electricity or wifi, surrounded by coffee plantations and other vegetations.
   Our host was a rastaman who was of a big kindness. We took advantage of the quiet nature during a long time. At night (6 pm), we came back home. The place was lit by candles, gas or fuel. The meal was ready soon enough. It was simple but with taste, so delicious. This time was a great moment of the trip because we were as cut from the world. It's in these times that we evaluate our luck in daily life… or not !! We went to bed early. We had a big morning the next day.
   On Thursday the alarm clock rang at half past two. We had a meeting with our mountain guide. 

   At 3 a.m. we began a long walk until the Blue Mountain Peak ! We switched on our headlamp to walk during 10 kms, surrounded sometimes with coffee plantations, sometimes with the jungle. It was amazing by night because we couldn't make a distinction of all the landscape, so our mind could imagine something else.
   After 3 hours, we reached the peak (2260 m). Unfortunately, the sunrise was already finished and the weather very bad. The downhill was great with a view on the vegetation and the mountain relief. At home, breakfast was waiting for us.
   In the afternoon, we took the car to go on the east coast, to Boston Beach… change of scenery but a beautiful place.
   On Friday it was cloudy. We decided to go to Reach Falls. Dennis, a Jamaican, came wit us. We walked in the water through little rocks and falls to play like children. Sometimes, the sun came back, which gave beautiful colours to Reach Falls. The next day, we stayed on different beaches to rest and do snorkeling, and to swim.
   On Sunday, Gaëlle and I went on the west coast to discover another part of the island : Negril. It was almost my favourite place of the trip. There were two places at Negril : the beach called « 7 miles » and the cliff. Our hostel was on the beach but we spent a lot of time on the cliff. The sunsets were beautiful. One day we drove until Black River. We did a safari on a boat to explore a kind of jungle full of mangroves (roots which fall down in the river). We were lucky because we saw 2 crocodiles, it was funny.
   After this visit, we took a fisherman's boat to go to Pelican Bar : an amazing place because this bar was on stilts in the sea, nothing around there !! We had a big smile because this moment was incredible. We spent two hours at this place to be peaceful. Sometimes we went down in the sea to refresh. About ten people were there. It was very relaxing. Once we did snorkeling to see little fish under the bar. At this moment, a ray was swimming under our bodies. We were as petrified and excited to see this scene.
   The return to Kingston was a little sad because we spent three good days at Negril and the surroundings. Likkle more Jamaica !!!
---
     DIANA... 20 YEARS ALREADY...
     Everyone remembers what he / she was doing when hearing about the death of Lady Di, on the 1st of September 1997… Diana had died the night before with her lover Dodi Al-Fayed, in a car crash in Paris, in the tunnel under the Alma Bridge…
     Much has been written and said on that terrible accident since then, but it seems there wasn't just one cause to that tragedy… rather, a combination of reasons (the speed, the chase of the paparazzi, the alcohol the driver Henry Paul may have drunk, a mysterious Fiat Uno car…).
     I remember this event particularly well. At the time (September 1997), I was getting ready to spend a wonderful year in London, where I worked as a French assistant in a school, and I arrived there just a few days after her funeral...
I remember going to the centre of the city, and seeing at different places thousands of bunches of flowers in front of several buildings, including her former home, the Palace of Kensington.
     How to sum up a life (a fate rather) so special… She was born in 1961 and had an aristocratic background. As a child, she had not really shone at school, but was an excellent ballet dancer. She met Prince Charles in the late 1970s. At the time, she was sharing a flat with friends and working in a nursery school, probaly the happiest and most carefree time of her life. Charles was looking for a wife, or rather, the Royal Family was doing so for him… Diana was chosen for her quiet (at the time !) character, her pureness, her youth and beauty of course !
     The rest of her story is well-known… Their wedding, which took place on the 29th of July 1981, at St Paul's Cathdral in London, proved to be a complete disaster. She felt misunderstood by the Royal Family, was very unhappy with Charles, who had never stopped his relationship with Camilla Parker Bowles. Diana and Charles had two sons though : William (born in 1982) and Harry (in 1984). The couple separated in 1992, but didn't divorce…
     On that very year, Diana started to use the media to make the world understand her real life and unhappiness as a royal princess. First  her biographer Andrew Morton published 'Diana : Her True Story'. A few years later, in November 1995, she appeared on the BBC in an interview where she clearly blamed Charles for the failure of their marriage. This interview had a bomb-effect and resulted in their divorce on the following year, in 1996…
     Nevertheless, as Diana and Charles' relation was crumbling down, Diana started to get famous for her charity and voluntary work. She raised funds to support the homeless and needy, worked with victims of AIDS around the world, campaigned to ban landmines in Bosnia or Angola…
     Her funeral on the 6th of September 1997 was watched by millions of people worldwide. Elton John sang a moving version of his song 'Candle in the Wind' in Westminster Abbey.
     She will be remembered as "the People's Princess", a phrase uttered by Tony Blair (Prime Minister at the time), just after her death. Diana herself had said : " I'd like to be a queen in people's hearts, but I don't see myself being queen of this country"... She will never be forgotten.

---
     Véronique regularly goes to England and she wanted to share with you two things she experienced in London this summer : playing croquet and listening to a concert at the Royal Albert Hall in London... How great !
     WHO KNOWS ABOUT ENGLISH CROQUET ?
     I played "croquet" the first day of my stay in London and found this game very enjoyable. Croquet is a game played on a well-maintained lawn in which four wooden balls are driven through a series of hoops with a mallet. The course is larger than a tennis court but smaller than a football pitch. The most important is the way in which the hoops are set out.
     There are six hoops plus a post in the middle of the course; four hoops are set out in a square and two hoops in the center nearer to each other, at an equal distance of a post. The game can be played by two or four players. The object of the game is for the player to be the first to hit his ball through a hoop.
     The first player who does so wins a point, and all the players move on to the next hoop. The winner is the first player who reaches seven points.
There is another form of croquet : "Association Croquet", but the rules are more complicated.
     A CONCERT AT THE ROYAL ALBERT HALL...
     Among a lot of museums in the "Museum district" near South Kensington in London, there is one very important and globally known building, that is the Royal Albert Hall…
     In summertime takes place a typical English tradition : the "BBC Proms", that is to say a lot of concerts between mid July and September, which change every day; they are so famous because of the quality of the orchestras and choirs (not only the BBC orchestra but international orchestras like Vienna Philharmonic or Cincinnati Symphony Orchestra and so on), you need to buy the tickets very quickly because they are sold in the first days.
   Something particular to notice is that people can stand in the middle of the arena during the concert without sitting (in this case tickets are cheaper!)
   There is something for everyone in all kinds of concerts, not only classical music but also concerts linked to the "Centenary of the Russian Revolution", or performances marking the 500th anniversary of the Protestant Revolution and concerts dedicated to film composer John Williams...
    The concert performance I attended was "Fidelio" by Beethoven, the only opera in two acts; a powerful tale of political oppression and female heroism, this work is the most famous example of the 18th century rescue opera.
     I can add that the concerts can be heard on BBC Radio 3 some days later and for thirty days online.
---
     Tchernobyl, Fukushima... two names that will unfortunately be remembered forever. So much has already been written and said about the use of nuclear energy, about possible sustainable energies to replace it... Thomas is really interested in the environment and naturally decided to tackle this subject...
RUSSIAN TCHERNOBYL AND JAPANESE FUKUSHIMA
(April 1986 - March 2011)
     The 26th of April 1986 in Ukraine : a day that will remain forever engraved in the memory of the 43 000 inhabitants of the town of Prypiat. At 01 : 23 a.m. the test, ordered by Nicolaï Fomin and directed by Anatoli Diatlov, began and a series of detonations occurred at the heart of reactor No. 4.
     The floor of the plant started to shake. While the town of Pripyat slept peacefully, reactor 4 exploded. The atom escaped all control. The first major nuclear accident in history had just occurred. The Tchernobyl disaster will challenge the use of nuclear energy. The firefighters on the spot dumped in vain tons of water on this fire that nothing seemed to extinguish. One by one the men vomited, became uneasy, collapsed and their skin became brown ; a radioactive tan that announced their imminent death. They were the first victims of Tchernobyl. During the 7 following months, 500 000 to 1 million men fought thar invinsible enemy : radioactivity. Liquidators. Many had no protection against that. Everything they touched was burning with radioactivity. It was thanks to these men that a second explosion of a power ten times greater than that of the bombs of Hiroshima and Nagasaki could have been avoided, which would have annihilated half of Europe.
     A secret that the Soviets and the Westerners have kept for 20 years. It was the battle of Tchernobyl. Until the installation of the sarcophagus on reactor 4. Today, more 30 years after the apocalypse, a new sarcophagus has been installed (2015) on reactor 4 and on the first one, very damaged.
     The 11th of March 2011 in Japan, a day that will remain forever engraved in the memory of the inhabitants of the town of Fukushima. At 02 : 46 p.m. an earthquake of an exceptional power on the Richter scale shook the Pacific coast of Honshu, the main island of Japan. A tsunami swept the coast an hour later, up to ten kilometers inside the lands. Several people died, towns were destroyed, lands were devastated and nuclear plants were touched, among them one in particular : Fukushima Daiichi.
     With six reactors. Between the 11th and the 15th of March, reactors 1, 2, 3 and 4 exploded and three hearts melted because of the tsunami. Reactors 5 and 6 were stopped. The explosion of reactor 2 was the most serious because of radioactive waste in the atmosphere, on land and in the sea. The disaster of Fukushima caused diseases and deaths, like the disaster of Tchernobyl. Little by little the situation stabilized. This crisis situation was managed by men who intervened and worked in particularly difficult conditions and / or in a particularly hard regime (USSR).
     These two nuclear disasters caused thousands of deaths and diseases in the world and mostly in Europe and around Japan. Now, with the urgency of global warming, we can replace this energy by sustainable energies : solar, wind, water, biomass...
---
     A few weeks ago, Evelyne went to Brussels and visited the Royal Greenhouses of Laeken, which open to the public every spring, for only three weeks… So many thanks for this interesting and refreshing visit… and for the comments in English. These geenhouses are really worth seeing !
---
     On May the 29th, I attended the concert of Depeche Mode at the Grand Stade in Villeneuve d'Ascq… I couldn't wait to go to this concert ! Depeche Mode has been my favourite music group for nearly 30 years now… And I had bought the tickets online nearly seven months ago… I went with my husband, who didn't really know Depeche Mode at first, but who has now become a great fan too !
     Depeche Mode is an English electronic band who formed in Basildon (Essex, England) in 1980, and consists of three members : Dave Gahan (lead vocals) ; Martin Gore (guitar, keyboards, vocals and main songwriter since 1982) and Andrew Fletcher (keyboard, bass and guitar). At the beginning a fourth member : Alan Wilder (keyboard and drums) was part of the band but he left in 1995. 'Spirit' is their 14th album.
Depeche Mode in the 1980s, and the group today...
     I started listening to Depeche Mode in my teenage years, copying all their texts in a special notebook. Even though I couldn't understand everything at the time, the texts appealed to me in a way I couldn't explain, I found them deep and meaningful. The lyrics of some songs are particularly strong and catching,
like Enjoy the silence (according to me one of the best songs ever written), or World in my Eyes, from the album 'Violator' (1990), Never Let me Down Again, or Little Fifteen from their previous album 'Music for the Masses' (1987). Another album I particularly enjoyed was 'Songs of Faith and Devotion' (1993).
     Depeche Mode is a very peculiar group, who remained true to itself, crossing the decades while keeping its own touch… In their most recent albums, including 'Sounds of the Universe' (2009), 'Delta Machine' (2013) and 'Spirit' (2017), their music sounds even more electronic and in the mood of time… while keeping the beauty and depth in the texts, sometimes even sounding a bit sad or melancholy (e. g. the two songs We're going backwards or Cover me). We can feel too a need of the group to express itself more « politically »… as proves the most famous song of their latest album Where's the Revolution ?
     Since I started listening to Depeche Mode, I've always bought their different albums on the day of their release… I guess I can be considered a real fan ! I hope they'll still write songs and albums in the years to come…
and make concerts too ! The members of the group are now in their mid-fifties and may stop their career one day… Well, the later, the better ! Here are a few pictures taken during the concert in Lille : a wonderful and unforgettable moment !
---
     During the Easter holidays, Jean spent ten days in Ireland with his secondary school. He was very impressed by the landscapes he saw and the friendly people he met there. Here are his Irish impressions; thanks a lot to him for sharing them !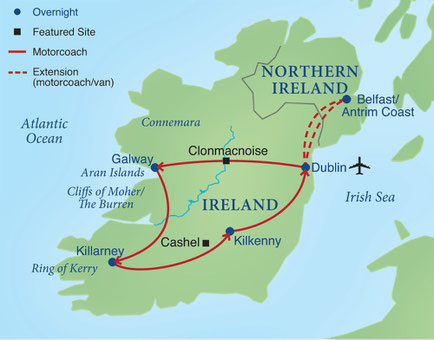 From Sunday, April the 9th to Tuesday, April the 18th I made a trip to Ireland with my school. The journey by coach and ferry was very long…
     We arrived on Monday evening in Galway, and with my friends we went to the family who looked after us during four days.
     The day after we went to the Connemara National Park ; we climbed the moutain and at the top we had an amazing view !
     After, we visited Kylemore Abbey. There, we saw the abbey and the Victorian garden. Just after, we came back to the family.
     On Wednesday : the cemetery of Kilmacduagh, in which there were Celtic crosses and a round tower inside which monks could hide to protect themselves when there were attacks. The cemetery was unfortunately destroyed by Cromwell.
     Next, we visited the cave of Glenslane and the Burren, which is a large extent of rock. Not far from there, stand the Cliffs of Moher: very impressive because they are very high, moreover it was windy and foggy.
     On Thursday we saw the monastery and cemetery of Clanmacnoise. After that, we visited the Killbeggan Distillery, which makes whiskey.
     On Friday we saw the cemetery of Monasterboice and then we went to Inishmore (on the Aran island). On the island, we cycled and played football.
     On Saturday, we went to a farm where we did some activities like making bread, or trying a folk dance !
     The journey ended in Dublin, where we visited the Guinness museum. After we saw Christ Church and finally Trinity College. It's a very famous university. Inside, we visited the library where there were 300 000 books of famous authors, and also statues of thinkers like Plato or Socrates…
     At the beginning I didn't feel very keen on visiting this country but I saw wonderful things, lanscapes and people. I really hope you will go there one day !
---
     A few months ago, Thomas converted to « zero waste » : he's tried since then to reduce the amount of rubbish (recyclable or not) at home... Here is his report :
     Let's talk about rubbish and recycling. There is too much rubbish on our Earth! Too much! All loads of old rubbish are a great part of the CO2 gas thrown out in the atmosphere and responsible for the gap in the ozone layer. Mostly rubbish that we can't recycle. Polysterene rubbish, blistere rubbish, other plastic objects are not recycled. We can use that a second time to make still petrol/gasoline for cars. And after we will see. And in an imminent future all things made out of petrol will disappear.
     All rubbish will be recycled! Plastic bottles, glass bottles, papers, newspapers, are recycled and we can reduce the level of CO2 thanks to all that sorting. But, to recycle we must sort! Nuclear rubbish, chemical rubbish is too much dangerous for animals, floors, human beings and Earth! We can reduce very easily the level of carbonic gas! We know that rubbish pollutes and kills wildlife and flora : all biodiversities! We know too that a lot of rubbish is wasted! Like paper, newspaper and it is worse and worse for rainforests which suffer from deforestation. Such a waste! Give a second life to our rubbish and stop burning and burrying it! Too much! It is a better solution. I hope that people realize how serious this is. But I am not really sure.
The action of each citizen :
     I recycle almost all in my own flat of 23 m2. I am maybe an ecologist militant but I do my citizenship duty. As everybody would do and must do it for our future.
The first thing I recycle is food waste :
- housework waste like dust of vacuum and cardboard,
- natural waste like nails, beard, hairs
- natural waste like leftover foods, fruit and vegetable peelings...
all of that finishes in my compost. Next, I depose my compost every week into compost bins at MRES (Maison Régionale de l'Environnement et des Solidarités : 23 Gosselet Street, Lille). At last, associations, mostly Les Blongios and Des jardins et des hommes are happy.
The second thing I recycle is :
- ink cartridges,
- paper,
- lights bulbs
which I drop in a place of collect where people repare or reuse again or send in a firm which will do the job.
The third thing I recycle is fabrics to do cloths and tea towels instead of throwing them away as usual...
     Almost nothing ends up in the trash, quite the opposite. We give a second or even a third life to our waste! It is much better than systematically throwing lots of things that can be recycled, be reused, be recovered, and so on. The objective : zero waste or almost !
---
     Véronique has just visited an exhibition in Paris about a great author and playwright : Oscar Wilde ! Here are her impressions :
     While reading an article in a magazine about a great exhibition in Paris on Oscar Wilde, which was partly prepared by his grandson : Merlin Holland, I decided to visit it, in order to know more about one of the greatest English playwrights…
     So, Oscar Wilde was born in October 1854 in Dublin, Ireland, and died on November the 30th, 1900 in Paris. He first became famous for writing poems, then wrote art reviews in the USA and Canada, in France and in London too…
     He got married to Constance Lloyd and then wrote some tales for his sons Cyril and Vyvyan. His first job was in an editor's office. He only wrote one novel called The Picture of Dorian Gray. This book was not so successful because there were some homoerotic overtones which in the Victorian time weren't appreciated at all by the critics. In reality Oscar Wilde began an affair with sir Lord Alfred Douglas, who was the love of his life, but his downfall too…
     Oscar Wilde's greatest talent was for writing plays… Several popular comedies made his success quite high, for instance : a Woman of no Importance, an Ideal Husband, the Importance of Being Earnest, and so on… But then Douglas' father : Lord Queensberry, asked him to stop his relationship with his son. Oscar Wilde didn't answer but decided to sue him for libel, at the Court.
     At that time, Wilde was accused of homosexuality and sentenced to two years of hard labour in jail. There he wrote De Profundis, and after The Ballad of Reading Gaol, about the inhuman conditions in prison…
     He spent the rest of his life travelling in Europe and died of cerebral meningitis, penniless, in a cheap hotel in Paris.
     Paintings, drawings, photographies of Oscar Wilde, his family, friends, relationships, books, notebooks, letters, dedications showed a lot who was Oscar Wilde...
     On the walls of this exhibition is written the story of his life and a lot of sentences with a great sense of humour because yes, I forgot to tell that Oscar Wilde is very famous for a lot of quotations like the following :
---
     To start the year 2017, Thomas makes us travel to Scotland, to the heart of the Highlands… he wanted to unveil the mysteries over one of the most famous mysteries : the possible existence of Nessie, the monster of Loch Ness !
     The lake of Loch Ness is located in Scotland. It is 37 to 39 kilometers long, from 1,5 to 2 kilometers large and 226 meters deep, crossing the Highlands. Without forgetting, the 248 deepest meters near Urquhart castle. It is the most famous lake of the world. It is a certain «lost world». No link with the novel «The lost world» written by Arthur Conan Doyle.
     The Loch Ness represents the most important ressources in fresh waters of all the British Isles. But according to a widespread belief, this loch would be the house of prehistoric creatures, the only survivors of the dinosaur race, which has extincted for 65 million years. The constant number of testimonies seems to corroborate the existence of one or several monsters... But what is it? A monster? A hallucination? A creature not identified? Or a natural cause?
     The monster of Loch Ness. A famous legend which has lasted for several centuries. It appeared in the year of 565, when the missionary Saint Colomba chased a mystery creature which would have attacked one of his disciples. Later, in the 1930s the monster appeared again. Several witnesses heard something. The surgeon Robert Wilson pretended to photograph the monster with his famous picture, in 1934. The animal is named Nessie, a plesiosaur. But in 1993, Christian Spurling proves thanks to a manufactured model, with his step-father, that the picture of Robert Wilson is a hoax. However, eyewitnesses have continued to appear since 1933 and 1934. More than 1 500 witnesses affirm to have seen Nessie and often with photo supports. And the 248 deepest meters near Urquhart castle, is it Nessie's den? Perhaps...
     Today, Adrian Shine is the naturalist who is working about the mystery of the monster of Loch Ness. He has studied the lake since the 1970s. He is a specialist. He deduces that the great majority of witnesses seeing Nessie have been confused with the wakes of the boats, the wakes of birds, the swim of seals, some fishes, some sticks, waving the lake.
     Other researchers and scientists like Charles Paxton, Chris French, Mike Hartshorne, Stuart Monro, Richard Forrest... are continuing to explain us that it is unlikely to prove the existence of a monstrous creature. Moreover, the Loch Ness is poor in food with very few fishes and very cold ! Impossible for a colony of plesiosaurs to reproduce itself. They prove that this story is rather an invention, a creation of human brain. Typically human. We must seek at the level of our consciousness and our unconsciousness and at the level of our interpretation of the facts and the events.
     In 1996, a film is directed by John Henderson, Loch Ness, with Ted Danson, Joely Richardson, Ian Holm and James Frain.
     So, the monster of Loch Ness doesn't exist. One day, maybe, a strange creature will appear in this lake, defying science once again. And for people who believe in the legend and the mystery, Nessie will still live during a long time…