Sur cette page, les élèves d'English Comm' sont invités à publier des textes de leur composition : récit de voyage, visite de musée ou d'exposition, description d'une passion, d'un événement historique... un très bon exercice de production écrite !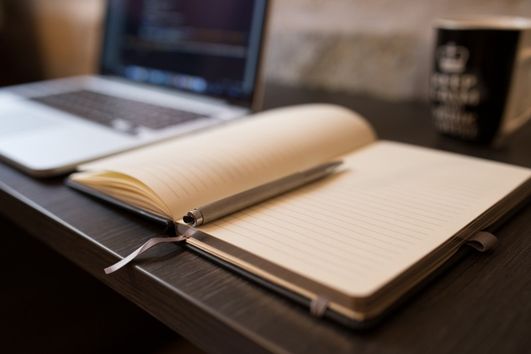 ---
    Evelyne is a member of a walking club. With her group, she recently discovered a very interesting place, where terrible events happened during WW1. Palingbeek (near Ypres in Belgium) is really worth a visit… At the moment an exhibition called 'Coming World Remember Me' pays tribute to the victims of the first world war. Evelyne made this video to share with you some explanations. Thanks a lot to her…
---
   During the Easter holidays, Jean spent ten days in Ireland with his secondary school. He was very impressed by the landscapes he saw and the friendly people he met there. Here are his Irish impressions; thanks a lot to him for sharing them !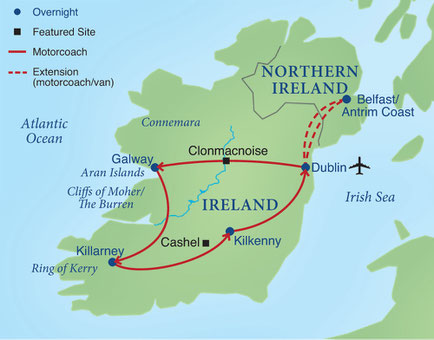 From Sunday, April the 9th to Tuesday, April the 18th I made a trip to Ireland with my school. The journey by coach and ferry was very long…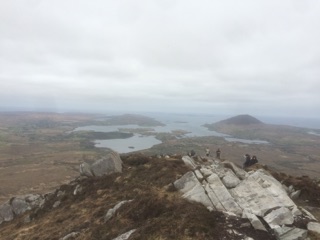 We arrived on Monday evening in Galway, and with my friends we went to the family who looked after us during four days.
     The day after we went to the Connemara National Park ; we climbed the moutain and at the top we had an amazing view !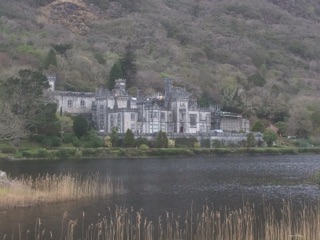 After, we visited Kylemore Abbey. There, we saw the abbey and the Victorian garden. Just after, we came back to the family.
   On Wednesday : the cemetery of Kilmacduagh, in which there were Celtic crosses and a round tower inside which monks could hide to protect themselves when there were attacks. The cemetery was unfortunately destroyed by Cromwell.
  Next, we visited the cave of Glenslane and the Burren, which is a large extent of rock. Not far from there, stand the Cliffs of Moher: very impressive because they are very high, moreover it was windy and foggy.
  On Thursday we saw the monastery and cemetery of Clanmacnoise. After that, we visited the Killbeggan Distillery, which makes whiskey.
     On Friday we saw the cemetery of Monasterboice and then we went to Inishmore (on the Aran island). On the island, we cycled and played football.
     On Saturday, we went to a farm where we did some activities like making bread, or trying a folk dance !
   The journey ended in Dublin, where we visited the Guinness museum. After we saw Christ Church and finally Trinity College. It's a very famous university. Inside, we visited the library where there were 300 000 books of famous authors, and also statues of thinkers like Plato or Socrates…
     At the beginning I didn't feel very keen on visiting this country but I saw wonderful things, lanscapes and people. I really hope you will go there one day !
---
    A few months ago, Thomas converted to « zero waste » : he's tried since then to reduce the amount of rubbish (recyclable or not) at home... Here is his report :
   Let's talk about rubbish and recycling. There is too much rubbish on our Earth! Too much! All loads of old rubbish are a great part of the CO2 gas thrown out in the atmosphere and responsible for the gap in the ozone layer. Mostly rubbish that we can't recycle. Polysterene rubbish, blistere rubbish, other plastic objects are not recycled. We can use that a second time to make still petrol/gasoline for cars. And after we will see. And in an imminent future all things made out of petrol will disappear.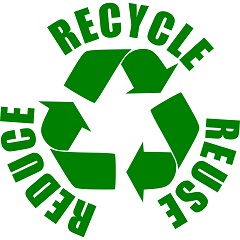 All rubbish will be recycled! Plastic bottles, glass bottles, papers, newspapers, are recycled and we can reduce the level of CO2 thanks to all that sorting. But, to recycle we must sort! Nuclear rubbish, chemical rubbish is too much dangerous for animals, floors, human beings and Earth! We can reduce very easily the level of carbonic gas! We know that rubbish pollutes and kills wildlife and flora : all biodiversities! We know too that a lot of rubbish is wasted! Like paper, newspaper and it is worse and worse for rainforests which suffer from deforestation. Such a waste! Give a second life to our rubbish and stop burning and burrying it! Too much! It is a better solution. I hope that people realize how serious this is. But I am not really sure. I recycle almost all in my own flat of 23 m2. I am maybe an ecologist militant but I do my citizenship duty. As everybody would do and must do it for our future.
   The first thing I recycle is food waste :
- housework waste like dust of vacuum and cardboard,
- natural waste like nails, beard, hairs
- natural waste like leftover foods, fruit and vegetable peelings...
all of that finishes in my compost. Next, I depose my compost every week into compost bins at MRES (Maison Régionale de l'Environnement et des Solidarités : 23 Gosselet Street, Lille). At last, associations, mostly Les Blongios and Des jardins et des hommes are happy.
   The second thing I recycle is :
- ink cartridges,
- paper,
- lights bulbs
which I drop in a place of collect where people repare or reuse again or send in a firm which will do the job.
   The third thing I recycle is fabrics to do cloths and tea towels instead of throwing them away as usual...
   Almost nothing ends up in the trash, quite the opposite. We give a second or even a third life to our waste! It is much better than systematically throwing lots of things that can be recycled, be reused, be recovered, and so on. The objective : zero waste or almost !
---
    A few weeks ago, I had a lovely surprise… I was invited to the theatre to see an adaptation of Oscar Wilde's Picture of Dorian Gray… I was very happy ! I couldn't wait to see how my favourite writer's only novel had been turned into a play. And what a great success it was !
    Oscar Wilde was born in 1854 in Dublin, Ireland. He made his studies in Oxford, and later became the talented writer known worldwide… He was an exceptional playwright : who doesn't know The Importance of Being Earnest for example, which is said to be one of the best plays in English ? He also wrote beautiful tales such as The Happy Prince or The Selfish Giant, which were first composed for his own children : his two sons Cyril and Vyvyan. Less well-known were his philosophical essays like The Critic as Artist, or The Decay of Lying, which are worth discovering too ! But his most famous work is probably The Picture of Dorian Gray, his only novel, published in 1891.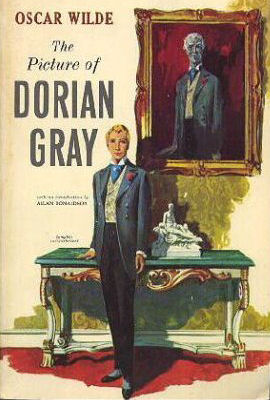 In The Picture of Dorian Gray, the main character : Dorian, a young man of an exceptional beauty, is being painted by a friend of his : the painter Basil Hallward, who succeeds in capturing the young man's beauty and innocence, in his best painting ever… Once at Basil's studio, Dorian makes the acquaintance of Lord Henry Wotton, a charming talker, a famous wit, and a brilliant intellect, whose hedonistic theories on life and youth will soon disturb Dorian… The young man tells himself : « How sad it is ! I shall grow old, and horrible, and dreadful ! But this portrait will always remain young ! ». Lord Henry's influence on Dorian will grow, and the young man will totally fall under his spell… and follow his radical advice, for example, breaking up with the young actress Sybil Vane, who was so in love with Dorian that she committed suicide. Dorian will start a new life dedicated to new experiences and pleasures, making a « Faustian exchange », whereby he will retain his beauty whereas the picture will age... His wish granted, the picture rather than the man degrades as he pursues a life of hedonism and debauchery, reminding him that although his looks are pure and unscathed, his soul is not…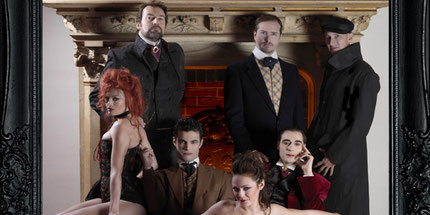 Having read most of Oscar Wilde's works, I knew the story of the book quite well. However, seeing the story  « on stage » was a brand new experience. And it's true that Dorian Gray is a novel that was meant to be played… The reader can easily picture the main characters Basil, Dorian and Henry talking together around the so-called painting… wearing smart, dandy clothes, and sitting on upholstered sofas… What I also liked in the staging was the fact we only saw the back of the painting, which was laid on an easel… You could thus try to imagine what the picture looked like… and how it deteriorated through time. The actors were really good too… embodying their character with passion. Here is a short video with extracts from the play :
   The Picture of Dorian Gray examines the relationship between art and reality, highlighting the uneasy interplay between ethics and aesthetics… If it is a brilliant story, it was not always considered as such… The story, at the time it was realeased was really shocking… What was this totally new kind of novel, whose subject was rather gloomy, and whose main character adopted a still unknown attitude to life, making a pact with the devil ?
   In the late Victorian society where the words conventionality, morality, rigidity and public opinion meant so much the originality and « immorality » of the plot didn't please a very « stiff » public.
According to Oscar Wilde, there shouldn't be any link between art and morality… As he wrote in his preface to the book : « There is no such thing as a moral or an immoral book. Books are well written, or badly written. That is all. »
    Oscar Wilde said about Dorian Gray : It « contains much of me : Basil Hallward is 'what I think I am,' Lord Henry 'what the world thinks of me,' and Dorian what I would like to be - in other ages, perhaps ». Oscar Wilde was an exceptional writer, and if you have never read his works The Picture of Dorian Gray is a good way to start !
---
     Véronique regularly goes to England and she wanted to share with you two things she experienced in London this summer : playing croquet and listening to a concert at the Royal Albert Hall in London... How great !
WHO KNOWS ABOUT ENGLISH CROQUET ?
  I played "croquet" the first day of my stay in London and found this game very enjoyable. Croquet is a game played on a well-maintained lawn in which four wooden balls are driven through a series of hoops with a mallet. The course is larger than a tennis court but smaller than a football pitch. The most important is the way in which the hoops are set out.
   There are six hoops plus a post in the middle of the course; four hoops are set out in a square and two hoops in the center nearer to each other, at an equal distance of a post. The game can be played by two or four players. The object of the game is for the player to be the first to hit his ball through a hoop.
   The first player who does so wins a point, and all the players move on to the next hoop. The winner is the first player who reaches seven points.
   There is another form of croquet : "Association Croquet", but the rules are more complicated.
A CONCERT AT THE ROYAL ALBERT HALL
  Among a lot of museums in the "Museum district" near South Kensington in London, there is one very important and globally known building, that is the Royal Albert Hall…
   In summertime takes place a typical English tradition : the "BBC Proms", that is to say a lot of concerts between mid July and September, which change every day; they are so famous because of the quality of the orchestras and choirs (not only the BBC orchestra but international orchestras like Vienna Philharmonic or Cincinnati Symphony Orchestra and so on), you need to buy the tickets very quickly because they are sold in the first days.
   Something particular to notice is that people can stand in the middle of the arena during the concert without sitting (in this case tickets are cheaper!)
   There is something for everyone in all kinds of concerts, not only classical music but also concerts linked to the "Centenary of the Russian Revolution", or performances marking the 500th anniversary of the Protestant Revolution and concerts dedicated to film composer John Williams...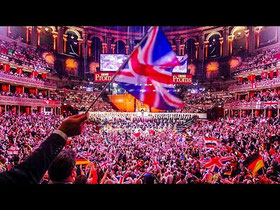 The concert performance I attended was "Fidelio" by Beethoven, the only opera in two acts; a powerful tale of political oppression and female heroism, this work is the most famous example of the 18th century rescue opera.
     I can add that the concerts can be heard on BBC Radio 3 some days later and for thirty days online.
---
    Ghislaine enjoys travelling, and especially to Greece, her « adopted » country as she calls it. Here are her « Greek impressions », after her last stay in Athens… Efkharîsto !

    Athens is one of the oldest cities in the world that subtly combines antiquity and modernity. Renowned for its glorious past during antiquity, it has sites full of stories and History. Very attractive capital, most people love it or hate it, however it has many assets and gathers a very large number of tourist attractions to better surprise us. So, let's go now to discover Athens...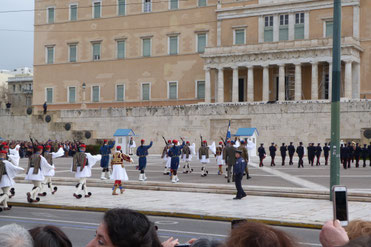 When we visit Athens for the first time, we absolutely have to visit the major attractions : Syntgama Square, geographical and political center of Athens ; the changing of the presidential guard in front of the Parliament. Go to see it on Sundays at 11 am because it's the most beautiful parade ! The National garden : an oasis in the middle of the city; The Olympieion and Adrien's gate.
   In the "Plaka" district, it's a real pleasure to stroll along the beautiful neoclassical mansions whose hot and colorful plaster rival the bougainvilleas. It's only enchanting with the winding and steep lanes. We can visit the Acropolis : standing up there, on the sacred rock as the Greek people named it, all of blond marble, one of the seven wonders of the ancient world; the Roman Agora and the Tower of the Winds (also named Clock Andronicos); the monument of Lysicrates; the Metropolitan Cathedral of Athens : symbol by excellence of Greek orthodoxy; the Hill of the Muses named the Hill of
Philopappos, the Panathenaic stadium : symbol of the modern Olympic Games; not forgetting the atypical Anafiotika : a small village with tiny passages so similar to those which punctuate the archipelago of the Cyclades. Don't hesitate to get lost in the streets of Plaka. It has a pleasant and relaxed atmosphere where locals and tourists gather for a drink in the taverns and admire this unique mixture of ancient and modern art.
My small wink: my favorite tavern is the "Melina", a tavern dedicated to Melina Mercouri, a great personality in Greece.
     The "Monastiraki" district is dominated by its former Tsisdarakis Mosque, today a museum of Greek folk art. You can feel the cosmopolitan atmosphere of the oldest district of Athens. There you can visit : the ancient Agora , the main square of the city of Athens where we discussed politics and made business. This square was the cradle of democracy. You can also see the flea market with its stores of antiquities and uncountable itinerant salesmen. Let's go on Sunday morning, it is impressive.
     But Athens is not that only old stones, it's also a very important cultural center with a lot of impressive museums where you can admire magnificent exhibitions. I had the opportunity to see three and I wanted to talk about them.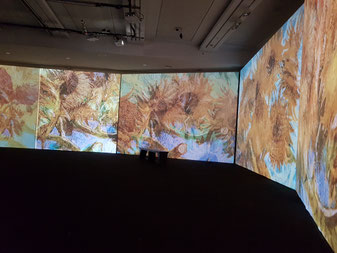 The first "Van Gogh Alive, the experience" at the Athens Concert Hall, is an exhibition full of poetry, however not a single painting of the master is exposed, but we are plunged into the work of the painter. And with a beautiful classical music, you live a real experience that upsets the senses. A beautiful, moving and captivating journey...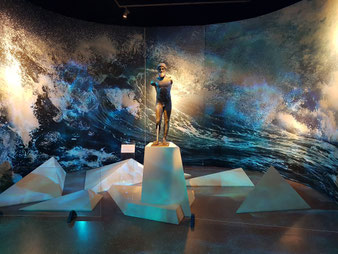 The second "Odyssey" at the National Archaeological Museum which celebrates the 150th anniversary of its founding. "The Odyssey" inspired by the mythological hero Ulysses includes 184 ancient works. This exhibition was accompanied by the music of Vangelis, Greek musician and composer, for me a genius of electronic music. The last one "Money - Tangible Symbol of Ancient Greece" at the Museum of Cycladic Art presents another aspect of the coins with 85 different coins and 159 objects from 32 Greek and European museums.
   But Athens, with its different districts, is also the city of cats, of graffiti… the city where you can find an atmosphere, a city with a lot of identites, a city with a tumultuous History.
   Athens is also the sea and the beaches, the Mediterranean cooking with Italian or oriental influences...
   A cooking with 1000 flavors … but with its own character and of course olive oil.
   Athens can't be summarized, it must be lived, so let's go there without hesitation because Athens is a magical city with its own identity where life is good !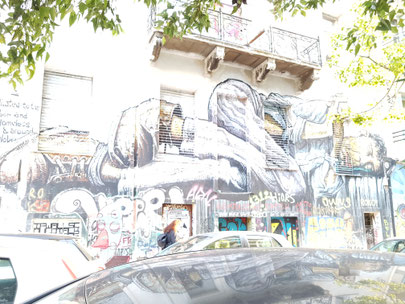 ---
   Many things have been said and written about the history, or rather the fate, of native American Indians... As the first settlers arrived from Europe to conquer the "New World" that would become the USA, these tribes disappeared little by little. Thomas wrote the following text in tribute to them... Thanks a lot to him. Don't miss the interview of Kevin Costner at the end !
    Indians... These people were 500 nations : Aztecs, Mayas, Incas, Sioux, Hurons, Pawnees, Iroquois, Cheyenne, Mohicans, Apaches and more... They had been the pioneers of the Americas since Prehistory ; since their ancestors arrived in the Bering Strait 20 000 years ago. Then they colonized the entire American continent, from North to South, little by little. They lived rather peacefully, in spite of the wars between various and different tribes.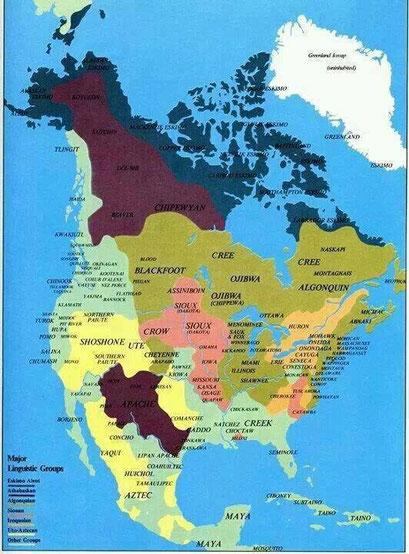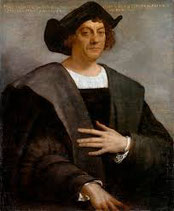 Until the arrival of European settlers in 1492 with the discovery of America by Christopher Columbus.
    The historical irony was that : these Indians were the first settlers on the American continent. European explorers did not suspect that they had just found again another part of the family of Humanity.
   Remember : racism is expressed as hostility, hatred towards a group or a category of people. As we know it today, it appeared more exactly at the time of Christopher Columbus. Before 1492 and the discovery of the New World, there was talk of xenophobia, not really racism. Xenophobia means fear of the foreigner, fear of the other. A very great choc of cultures.
Indeed, just after the arrival of Christopher Columbus, the successors massacred, killed and reduced in slavery, without pity, the Indian tribes.
   Considering them as savages, foreign to Western culture, and unknown in the Bible. The first tribes affected were those of Central America and those of South America, between the 15th and the 18th centuries. Then those of North America during the conquest of the West in the 19th century. Wars were not the only causes of the extermination of the American Indians. The diseases transmitted by settlers and their domestic animals from Europe made many more victims and decimated large tribes at great speed!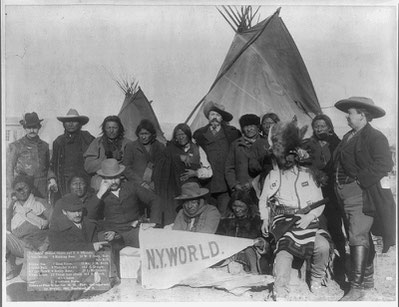 Some Indian tribes managed to ally themselves with the European settlers. Although some Indian tribes lived in peace, negotiated and traded with European settlers, there were many more wars between them than peace unfortunately. And why? One of the explanations : the mentality of men was not the same as today during these past centuries. In the past, we did not know many things that we know today. Mostly thanks to DNA.
    Today we must remember the past, to understand the present and plan the future of these peoples, and not feeling guilty about this chapter of History. We can and we must repair the errors ; turn the page. In 1990, the American director and actor Kevin Costner directed the film "Dance with Wolves" in tribute to the Sioux tribe, and a few years later he directed the documentary series "500 Nations" in memory of all these tribes, all these Indian people, forgotten by History.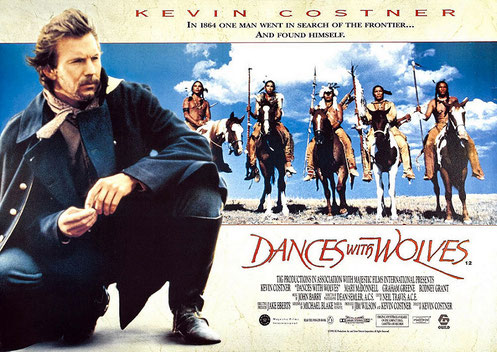 Other films were also made : «The revenant» directed by Alejandro Gonzalez in 2016, with Leonardo Dicaprio and Tom Hardy; «The New World» directed by Terence Malik in 2005, with Colin Farrell, Christian Ball, Christopher Plummer, David Thewlis and Q'Orianka Kilcher; «The Last of the Mohicans» directed by Michaël Mann in 1992, with Daniel Day-Lewis and Madeleine Stowe; «Mission» directed by Roland Joffé in 1986 with Robert De Niro, Jeremy Irons, Aidan Quinn and Liam Neeson; «1492, Christopher Columbus» directed by Ridley Scott in 1992, with Gérard Depardieu, Sigourney Weaver, Tchéky Karyo, Michaël Wincott and Armand Assante; «Little Big Man» directed by Arthur Penn in 1970, with Dustin Hoffman and Faye Dunaway; «Apocalypto» directed by Mel Gibson in 2006. The Indian American actors Wes Studi and Graham Greene are two of the most famous in America and in the World.
    To know more, the interview of Kevin Costner about the making of "500 Nations" :
---
     Evelyne wanted to share with you the special experience she had when she went to New York, and especially when visiting Ellis Island and the Statue of Liberty, and also the Wall Street area… Thanks a lot for these very nice videos !
---
     Valentin is a nurse at hospital, and he is currently taking English lessons to improve his level so as to go on a humanitarian mission abroad… He is fond of sport and particularly climbing… This summer he spent a very special day with some friends, cycling from Lille to Bruges… Would you do it ? Thanks a lot for sharing this experience...
A trip to Bruges
     One day, a friend I climb with suggested to me a trip to Bruges from Lille by bike. Immediately, I said "yes!". She prepared the road trip for me and some friends. We were five friends on the fluvial way towards Bruges. We started from Lille on Saturday the 27th of June at 8 o'clock and we arrived in Bruges eleven hours later. All told, we travelled for approximately 130 kilometers by bike in one day and without training.
     We didn't take the shortest way and, I confess, we were sometimes a little lost. All the road beside the canal was beautiful and so quiet. Sometimes, it was less funny, cause we needed to take a little of main road... When we arrived in Bruges, we were so tired but so happy to have succeeded the challenge. In the evening, after a good shower at the youth hostel, we went to a little free festival in a park. I don't remember the name, but it was so funny. And finally, we went to bed. Exhausted !!
     On Sunday, we visited Bruges. We walked all the day. I'd already been to Bruges, but it's always beautiful. We came back by train in one hour. The train was full and we each had our bike. The last challenge before the return! Finally, after this amazing weekend, I went to work…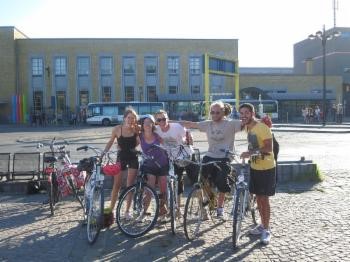 ---
     Kerguelen took lessons with English Comm' to prepare the Bulats, which she was very happy to pass ! Very keen on music, Kerguelen enjoys singing, and nowadays the English language is used a lot by singers worldwide… Thanks a lot to her to share her experience as an amateur singer in a musical :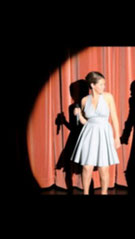 My passion is singing. I satisfy my passion with musicals and other shows. In fact, I played in a musical which looked like Grease and Dirty Dancing. It was an amateur musical but we worked on it every day. It was a pleasure to sing in front of an audience. After this experience, I sang in a little concert for the World Music Day. Most of my songs were in English ; thanks to English Comm' my accent is better, even if it wasn't the goal ;-).
     But today, singing isn't my priority because my studies take most of my time. However, next year, I will go to London, and there I would like to practise music every day, or as often as possible. Maybe, I will have singing lessons or I will sing in pubs ;)
---
   Françoise is fond of history and she wanted to pay tribute to a famous English writer : Rudyard Kipling, whose courageous son unfortunately died at an early age during the First World War. Rudyard Kipling is mostly well-known for his Book of the Jungle, but also for his famous poem : If… Thanks a lot for this text entitled "In the name of the Son…".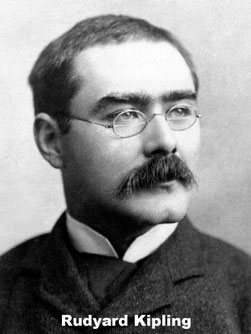 The great writer Rudyard Kipling and his wife Carrie had an only son: John. This boy was 17 years old in 1914 at the beginning of the Great War. John wanted to join the army to do his patriotic duty. But he was very much short-sighted and was reformed twice. Rudyard, his father, supported his son. So, he asked support to many friends and relations. Lord Roberts integrated John in his Irish Guards' Regiment. Rudyard was very happy and wrote a famous poem entitled If with this last very famous sentence: "you'll be a man my son".
   On the 25th of September, John wrote a letter to his parents. On the 2nd of October, a telegram broke bad news in England: John was missing, supposed wounded on the front line at the battle of Loos-en-Gohelle in Pas-de-Calais.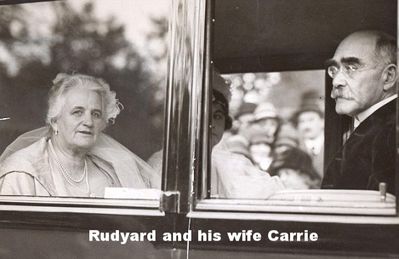 Rudyard was dismayed, he had self-reproach and his wife's reproach. He wanted to know what was happening to John. He looked at the photos of the prisoners of war, and at the lists of wounded. And after the war he came to Pas-de-Calais in the places where he could find a trace of John. He visited cemeteries between Lens and La Bassée (Loos, Hulluch, Vermelles, Auchy les mines…). He was so British (smart, lorgnette, top hat, Rolls Royce...) that the residents called him: "the Rolls Royce man". Nothing, no trace of John!
   In 1930, in Loos, Rudyard Kipling had to speak in the name of the Memorial War Graves for the inauguration of the war memorial. He couldn't speak, he was too much moved and affected… Did you know that it's Rudyard Kipling who chose the epitaph "known unto God"?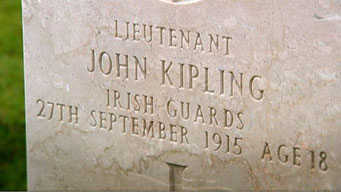 Rudyard Kipling died on the 18th of January 1936. He never had any news of his son. A few years before his death he wrote: "If anybody wants to know why they died, tell him, it's because our fathers have lied ".
In 1990, the body of John was finally identified in a military grave in the cemetery of Haisnes-les-La Bassée. John was 18 years old when he died.